INTERESTED IN ONE OF OUR OTHER SERVICES
Such as Insurance, Real Estate, Title, Islamic Financing, Merchant Processing, Development or Partnership Program?
Best way to leave a mark is by offering your clients a memorable experiences.
Ahmad El-Hindi, Loan Originator at Pied Piper Group, began his career in real estate and saw firsthand the challenges and stress that the mortgage process brings buyers. This inspired him to change his career and become a loan originator so that he could simplify this procedure and help people purchase their dream home. His unique combination of experiences allows him to have a distinctive perspective on the inter-workings of the industry. Ahmad understands that buying a home is more than just a transaction: it's a life-changing event.
Throughout the mortgage process, Ahmad's clients always come first. With care and compassion, he figures out the wants and needs of his customers to work tirelessly ensuring they are met. Ahmad hand-tailors his approach to each and every borrower, offering comprehensive advising every step of the way. His goal is to turn a stressful process into a pleasantly memorable one.
Ahmad is dedicated and persistent when it comes to his clients' satisfaction. He was proudly named top producer for six consecutive months. Despite his extensive mortgage knowledge, he aims to continue expanding this knowledge and further his client base over the next coming years.
Ahmad has his master's degree in Business Administration and Project Management. In his free time, he enjoys fishing, doing DIY projects, and traveling.
the key to Financial Freedom
The majority of the time people experience financial hardship due to lack of knowledge, education, resources and opportunities. That is why we have made it our mission to provide our clients with the out most transparency and support to help them reach their financial independence. We strive to educate our clients on all of our services, offer them all of the resources they need and be their dependable, ongoing financial experts while also giving them the opportunity to generate additional income.   
To download my business card please scan the QR CODE below.

To download my business card please scan the QR CODE below.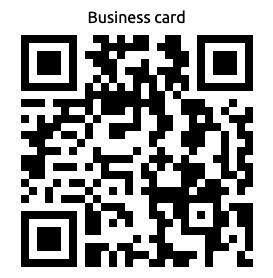 NMLS #: 1971853 - IL (Lic # 031.0068851)

RE Broker License #: 475172949 - IL