INTERESTED IN ONE OF OUR OTHER SERVICES
Such as Insurance, Real Estate, Title, Islamic Financing, Merchant Processing, Development or Partnership Program?
Perseverance and determination is what makes the impossible, possible.
Lawrence Ryla, our Chief Operating Officer, joined Pied Piper Group with an extensive history of successful transactions throughout the financial services industry. He is uniquely qualified to serve as our COO, having joined our team first as a director, then Vice President of Operations for our mortgage division.
"Every day, I put my problem-solving skills to work for my teammates and my clients," he says. With his expertise in credit analysis, sales, US Veteran's Administration Loans, home equity, and mortgage underwriting, Lawrence directs our team help to help our clients achieve the American Dream of home ownership and financial freedom.
Lawrence's career has taken him to some of the largest and most prestigious lending institutions in the country. Starting out in the automotive industry, he discovered he was a natural fit for sales. Switching to financial services, he began as a Senior Loan Advisor and Manager for Royal United Mortgage nearly a decade ago and continued as the Vice President of Market Place Mortgage Corp., then on to Wells Fargo, PNC Bank, and Nations Lending as Sales Manager, and later, Director of Operations. In 2020, he came to Pied Piper Group.
In his personal life, Lawrence Ryla himself has achieved the American Dream. Born in Lithuania, he came to the Chicago area and started his journey. He became a Chicago sports fan and can be seen at Chicago Bears and Cubs games. A year and a half ago, he became a dad to a beautiful son, and enjoys seeing the world through his eyes and teaching him about the world he lives in.
the key to Financial Freedom
The majority of the time people experience financial hardship is due to lack of knowledge, education, resources and opportunities. That is why we have made it our mission to provide our clients with the utmost transparency and support to help them reach their financial independence. We strive to educate our clients on all of our services, offer them all of the resources they need and be their dependable, ongoing financial experts while also giving them the opportunity to generate additional income.
To download my business card please scan the QR CODE below.

To download my business card please scan the QR CODE below.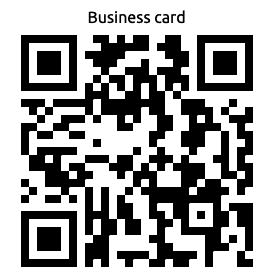 NMLS #: 1057600 - IL (Lic # 031.0068353), SC